10 BEST WAYS TO CREATE SUSTAINABLE AND LUXURIOS PACKAGING FOR AN ULTIMATE BRAND EXPERIENCE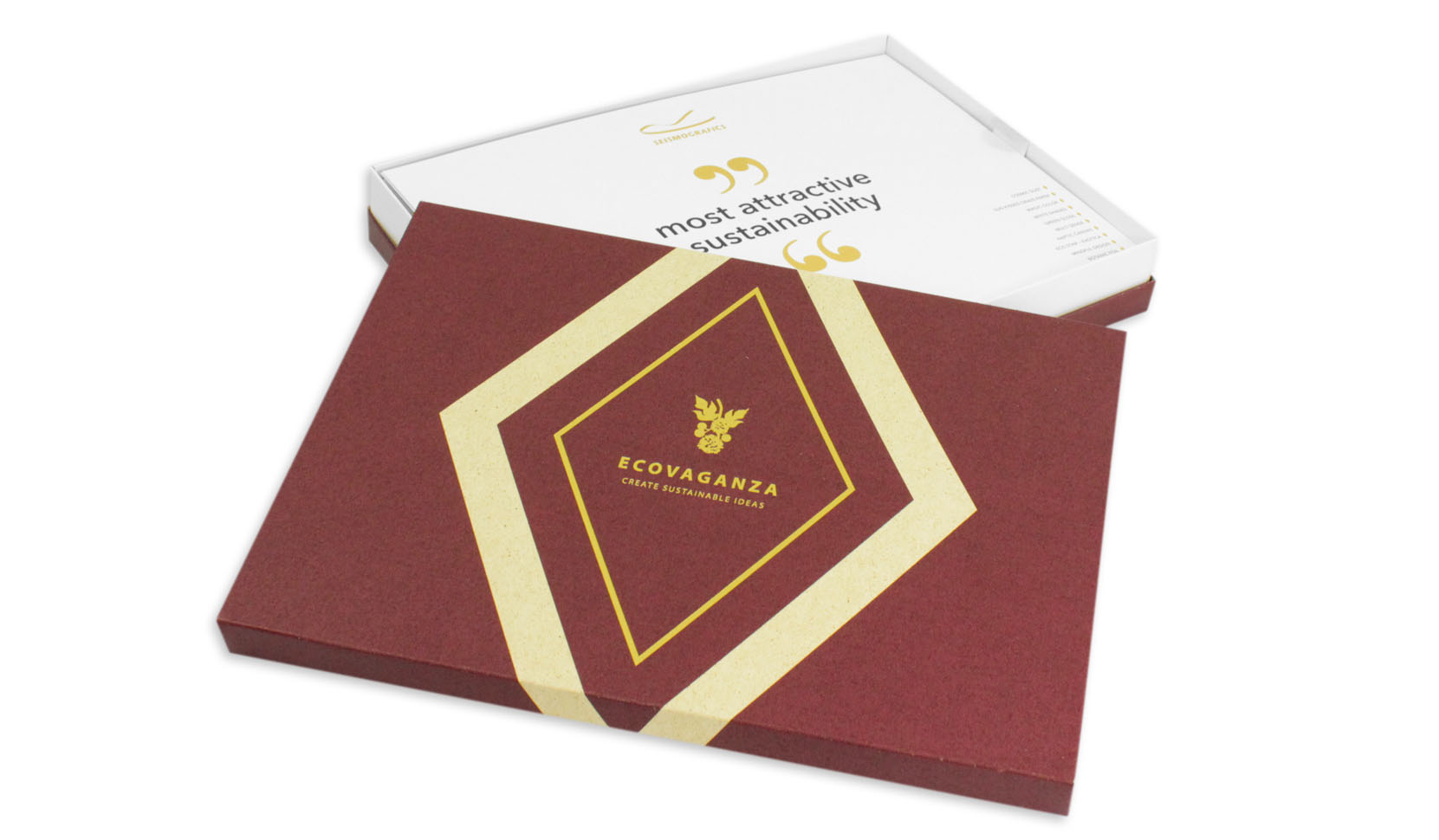 A Seismografics project
The behaviour of the end consumer has drastically changed in recent years; thanks to the internet and apps such as "Code Check" they are now much better informed.
Unhealthy or hidden materials are therefore no longer a secret and are becoming less and less accepted. For this reason the producers have to rethink their strategy and bring more vegan, organic, and otherwise sustainable products to market. However in order to present a holistic sustainable image, the packaging must also be made of correspondingly prepared materials.
After all the packaging is an advertisement for the product and is the first thing that a customer sees in retail.
Many High-Quality possibilities with the Ecovaganza Box
We have taken this development to our heart and started the Ecovaganza project and developed 10 ways how packaging can be much more sustainable and even more outstanding.
We combined the results in the Ecovaganza box, impressively illustrating how finishes can be sustainably created. For example through the interplay of sustainable grass paper and water based ink with eco-glitter, extremely elegant designs and eye catching packaging arises.
In the box you will find a total of 10 pages, each showing a different material and different print finishings. Let us inspire you!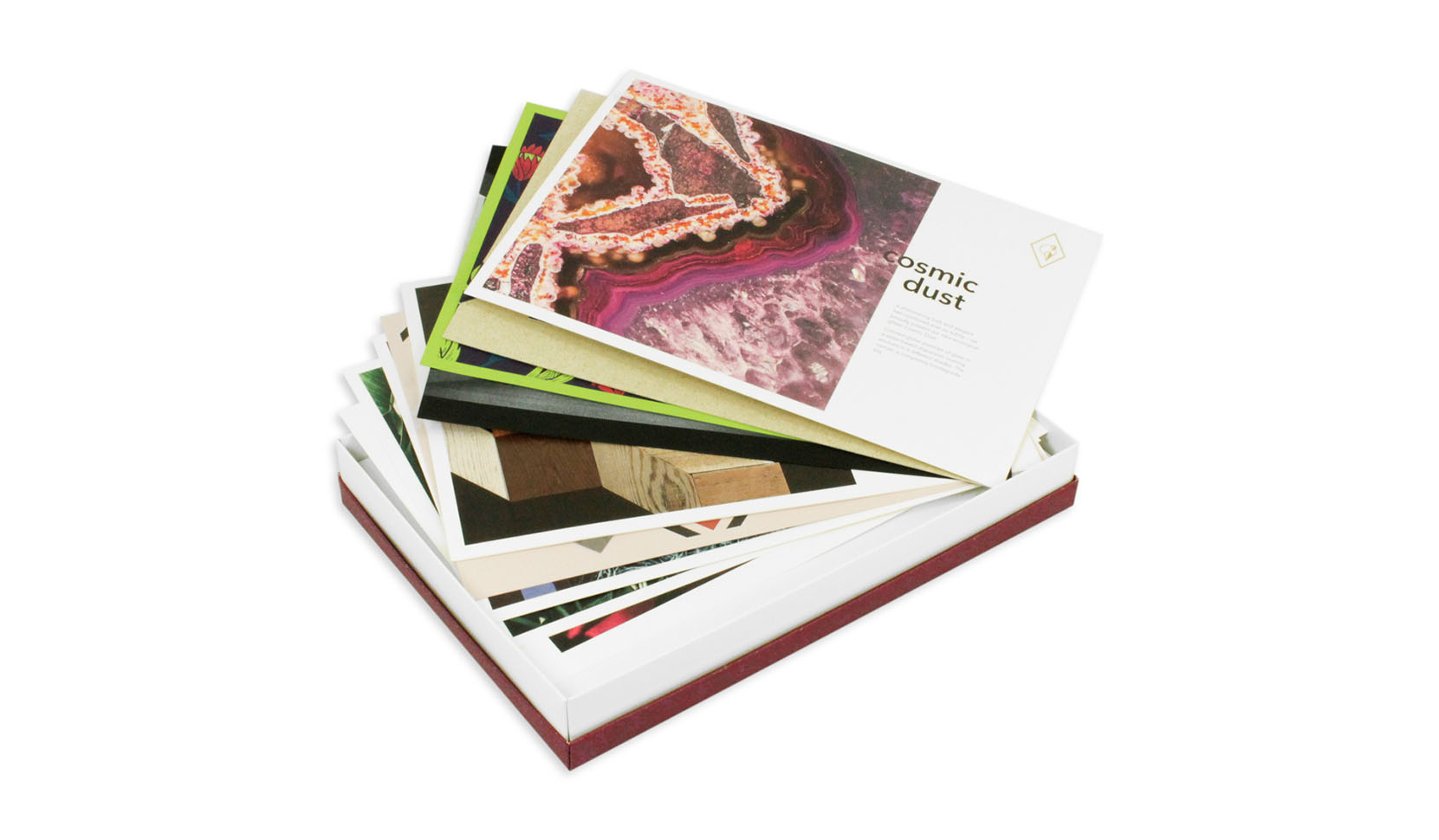 Sustainable and Luxurious
A luxurious look and feel is essential for premium brands in order to create a high end brand image and to achieve corresponding prices in the market. A combination of print finishing, sustainable materials and extraordinary design that meets the highest requirements guarantees an elegant appearance.
Our goal is to make the packaging and marketing materials as sustainable as possible, all while producing a one of a kind look and feel, which becomes a part of the brand.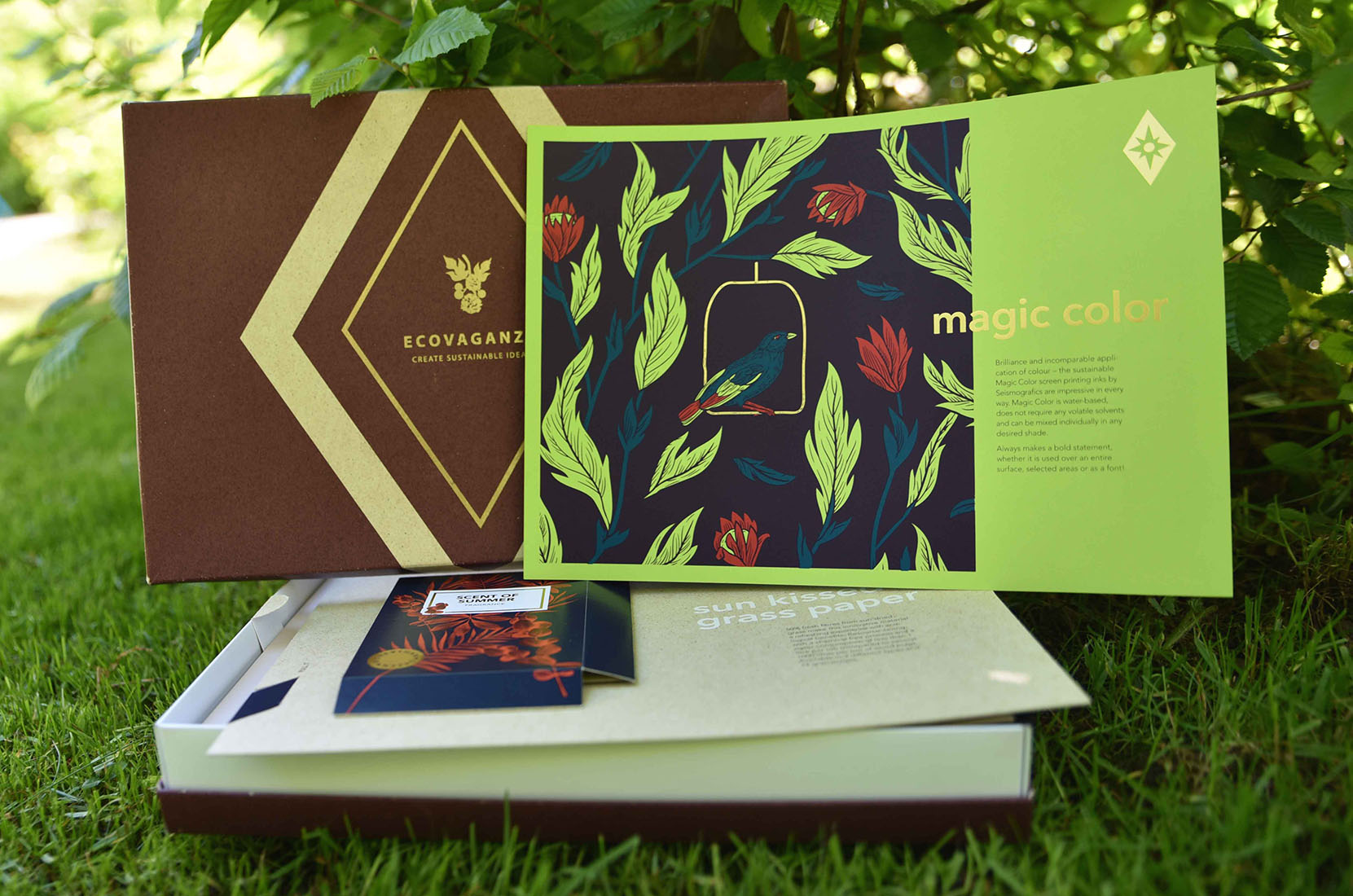 Cosmic Dust
Cosmic Dust – The alternative to UV based glitter varnish, the glitter is a mixture of the finest glass particles in a water based biodegradable dispersion coating, which replaces the much coarser polyester glitter used in conventional processes. Instead of a UV varnish, which is necessary for the polyester glitter application, a biodegradable dispersion is used.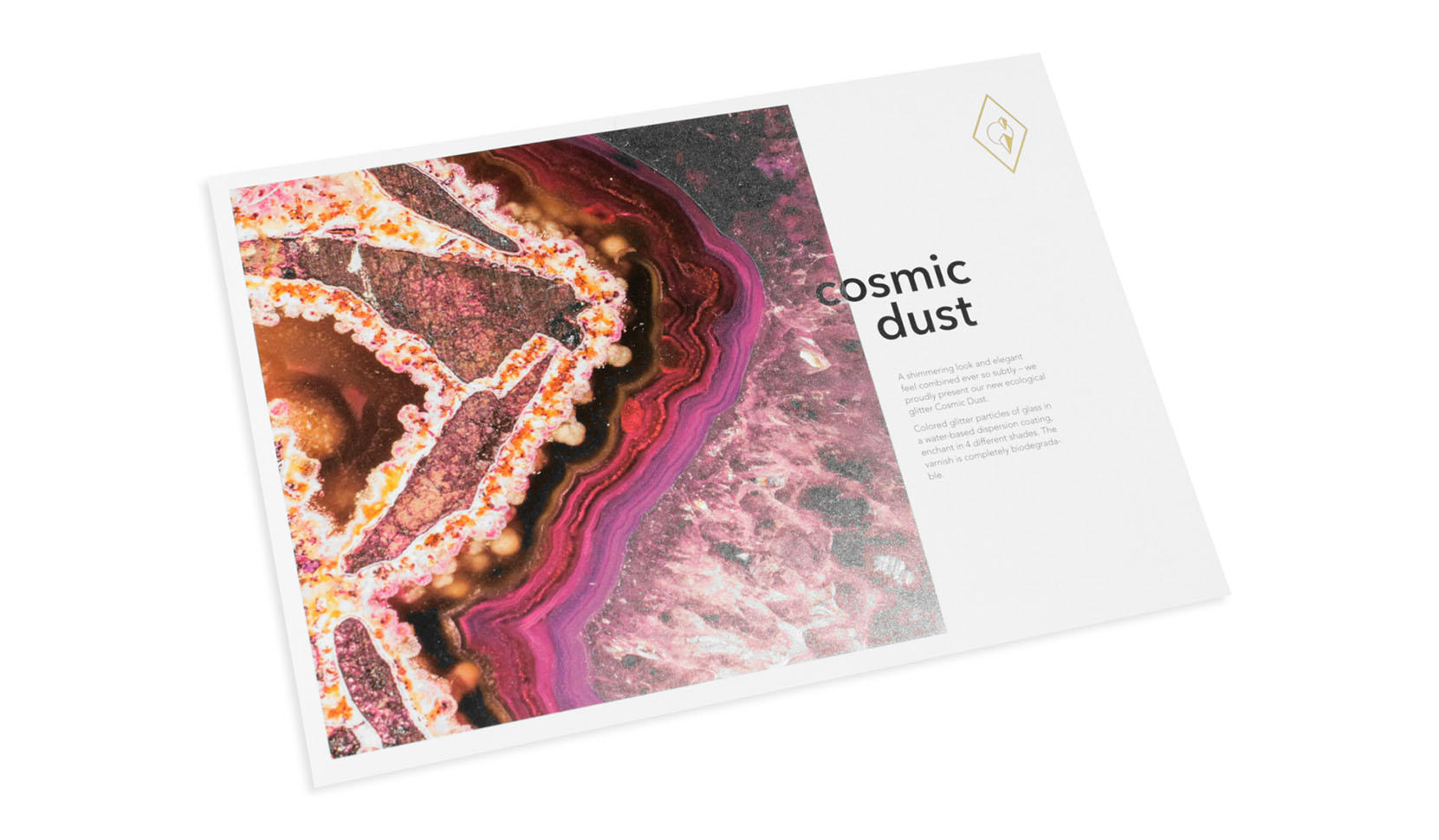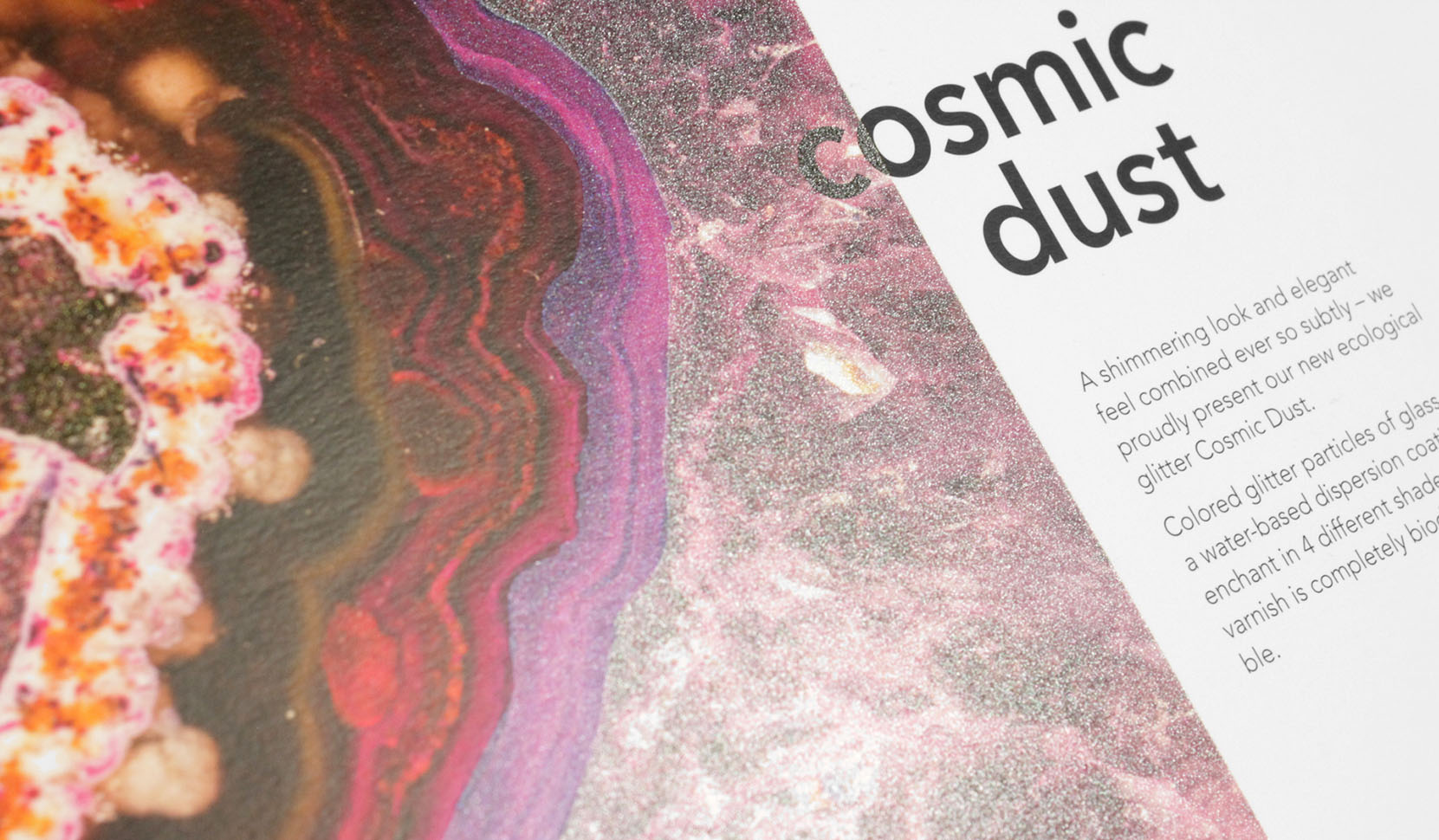 Sun kissed grass paper
Packaging and advertisements made of grass paper, printed with water based ink. The advantages: drastically reduced water and much faster renewing of raw materials, as well as printing with water based inks instead of solvent based inks. The water based white color is a good basis for non UV- offset printing.
Magic color
Water based inks printed on fine paper. Thanks to the opacity of screen printing inks special effects can be created. Formerly solvents were required, now this can transformed into a water based process.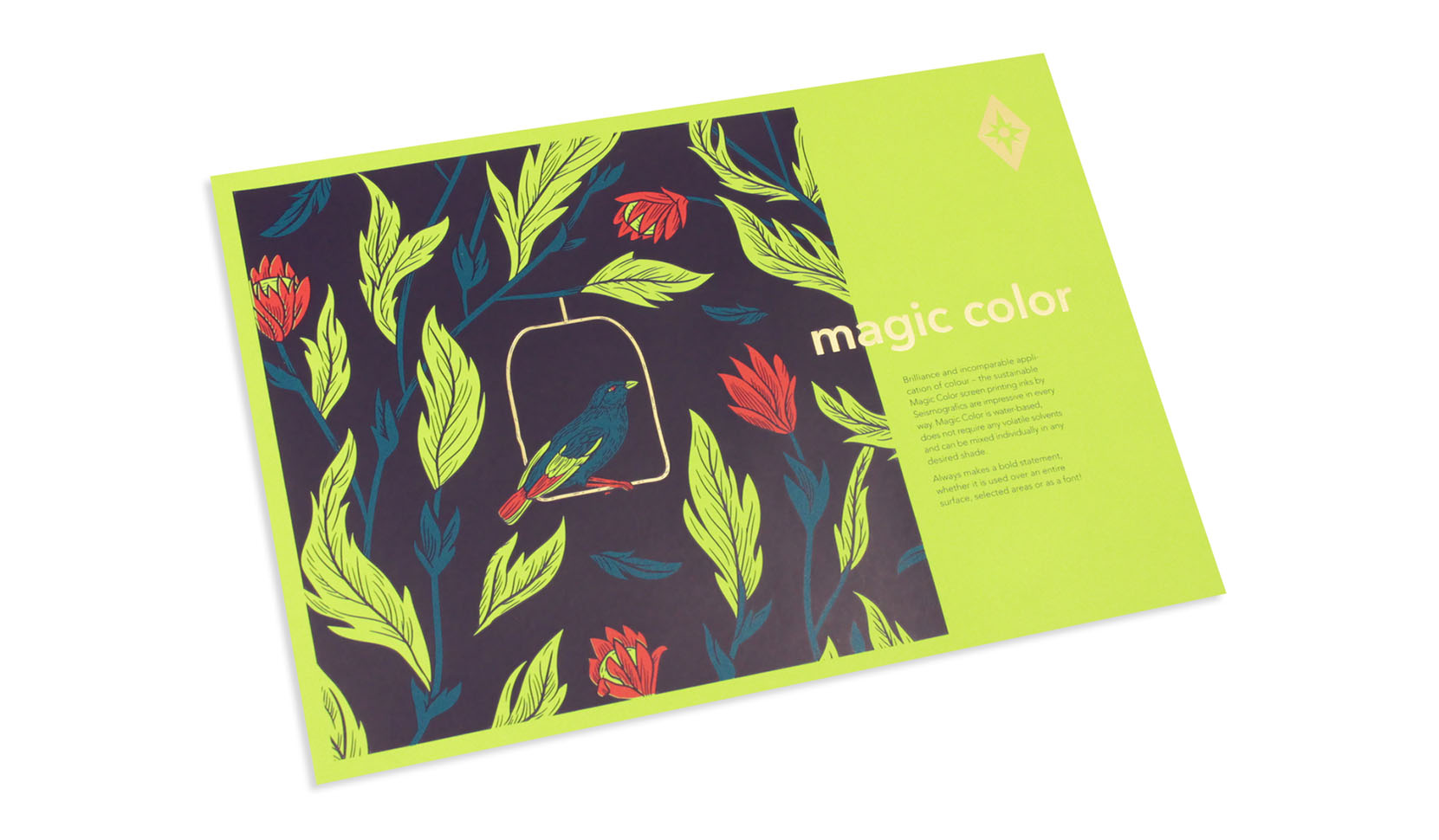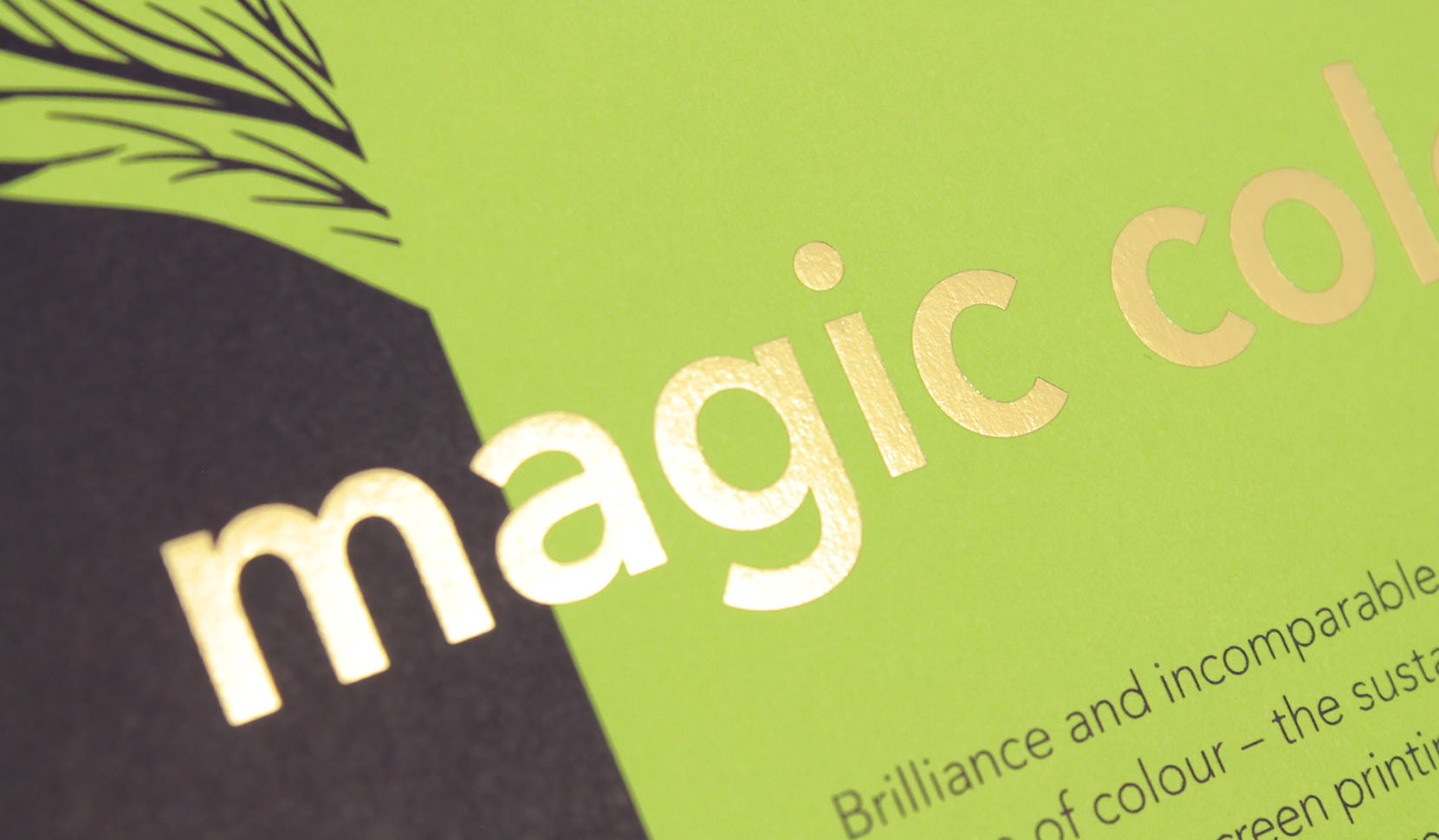 White shades
With "White Shades", we would like to prove that amazing effects can also be created with opaque white on dark construction paper and a single color process. Our opaque white has the properties of water based ink making it environmentally friendly. The opaque white can be overprinted with non UV- Offset inks.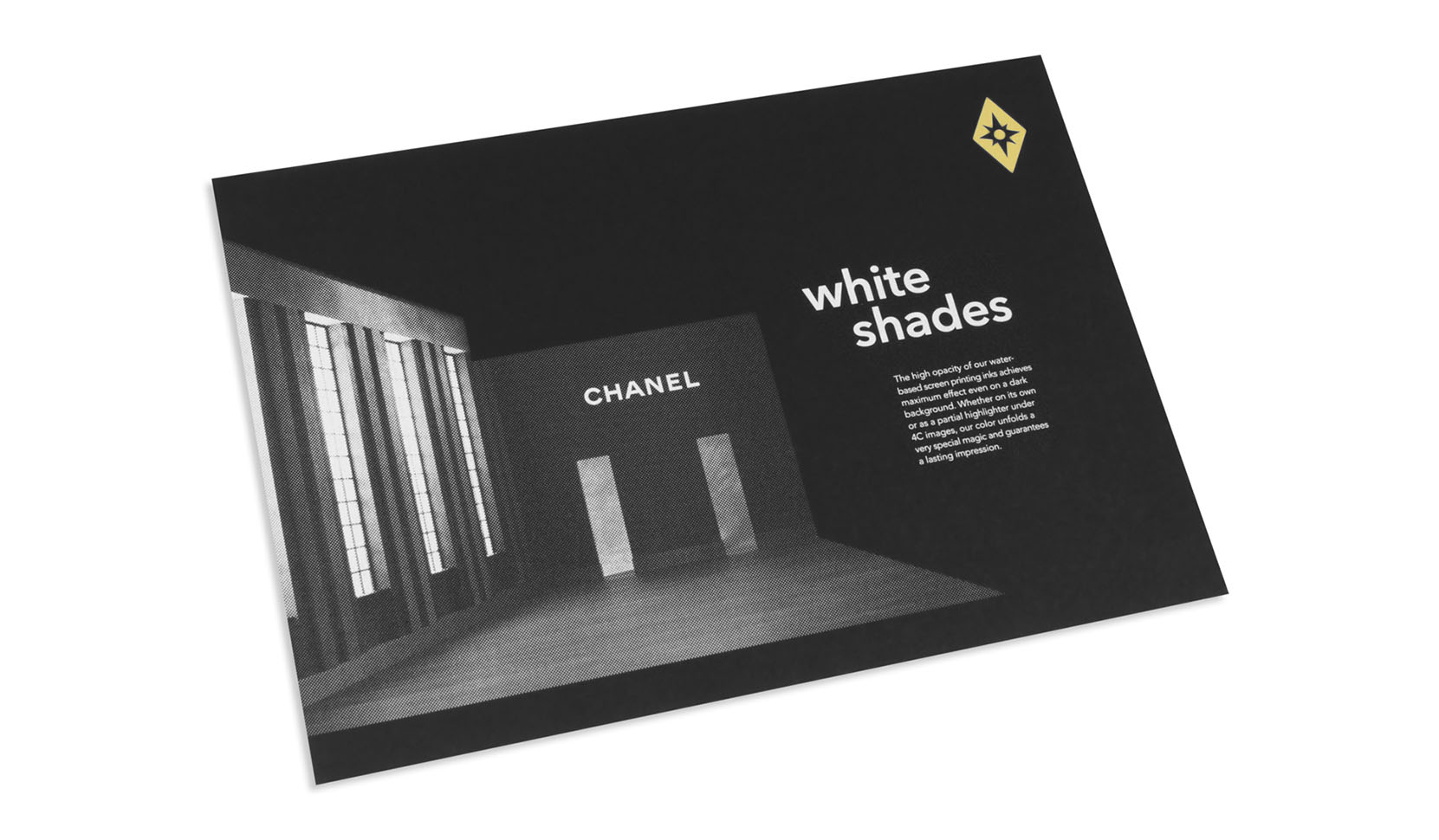 Green gloss
This page was laminated with a biodegradable foil.Foil finish has been used for decades for book and magazine covers. As of recently we can offer the foil lamination with biodegradable foil in matte, glossy, and metallic glossy. The environment advantage: the foil decomposes after only 15 weeks in the ocean and in the landfill. For printing eco friendly non UV-inks were used.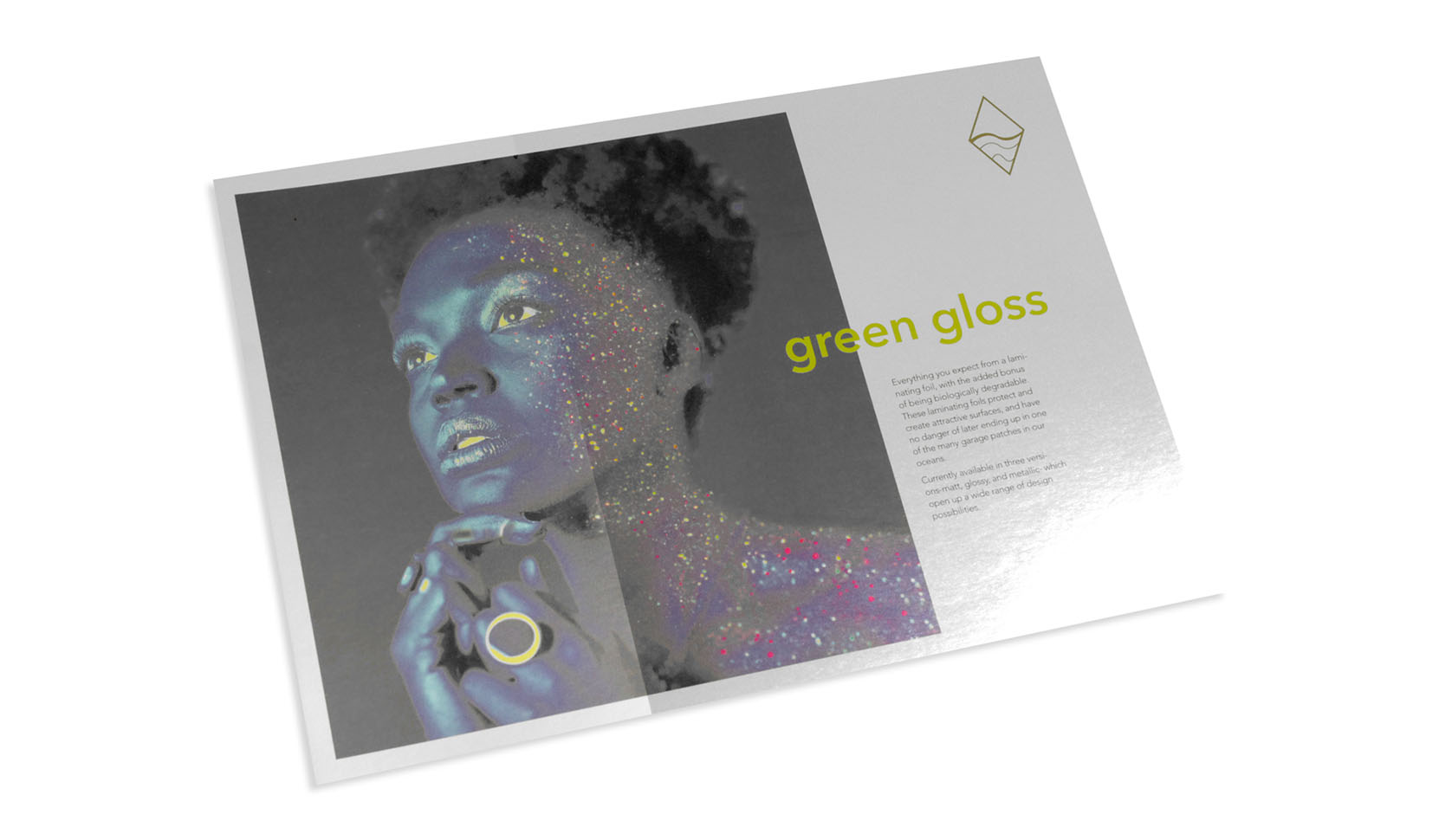 Multi sense
Natural textures such as that of wood can be imitated with the use of embossing. With this finishing possibility the conventionally used varnish is no more necessary.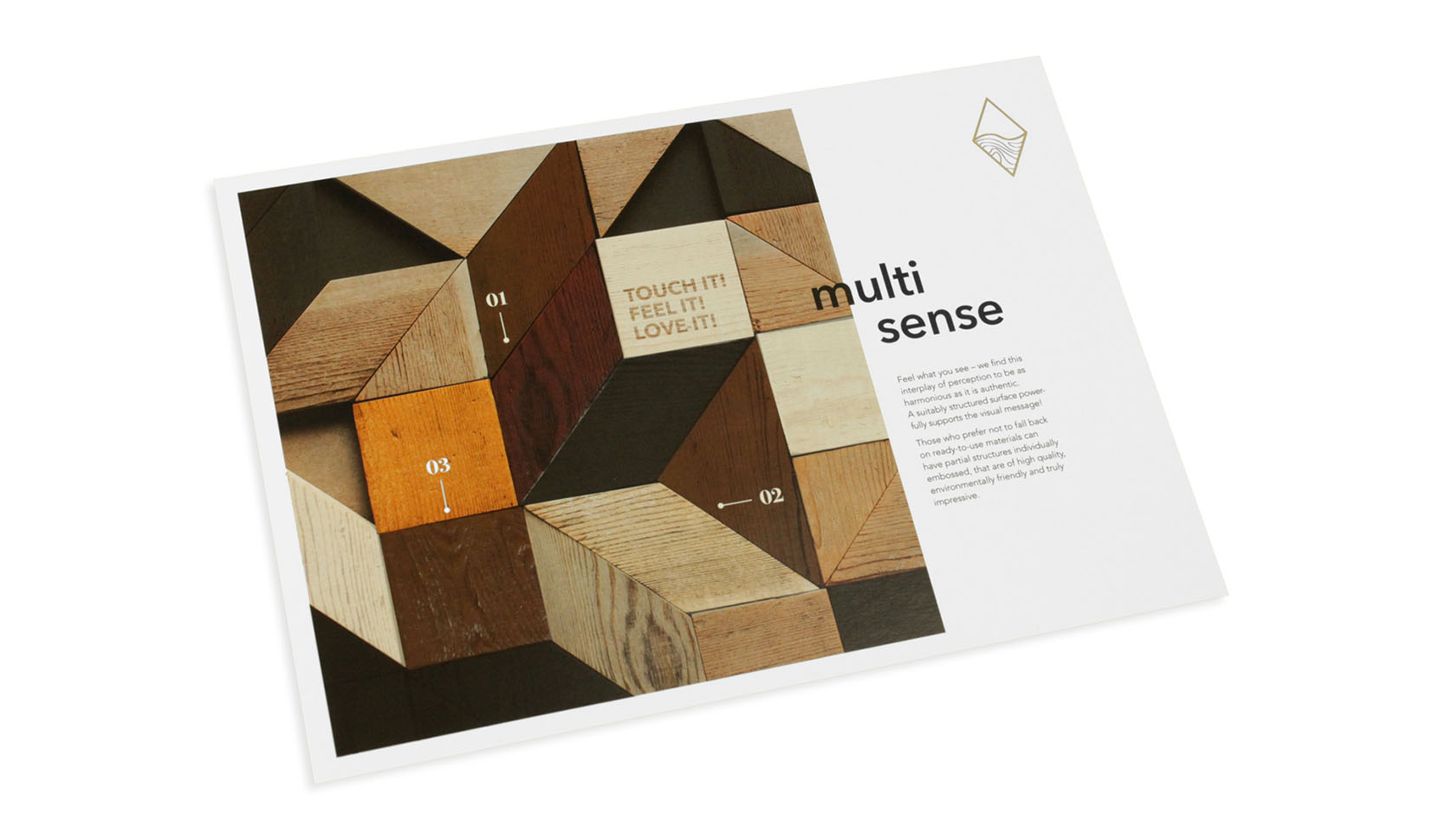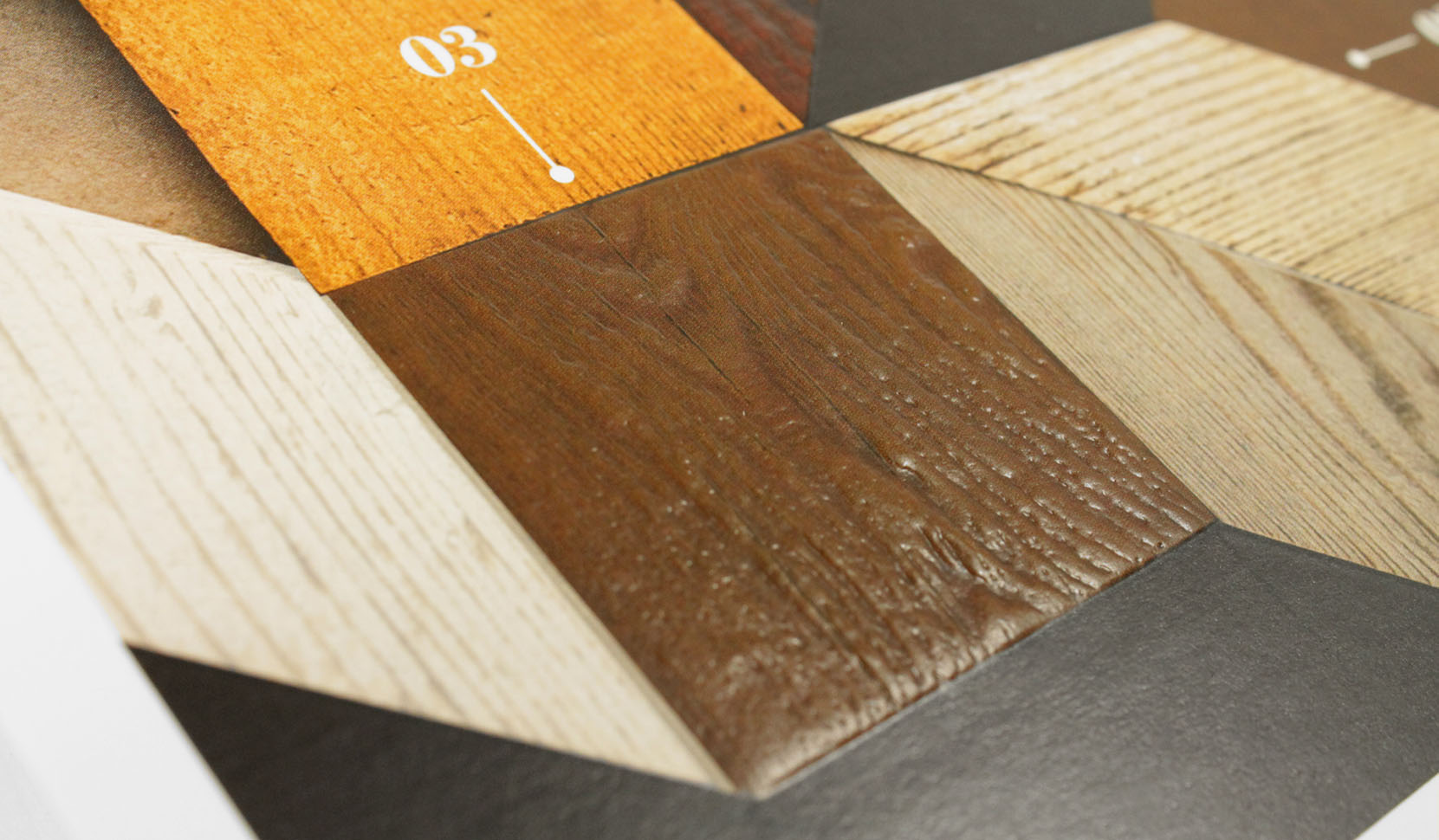 Haptic canvas
Here we show how blind embossing can be employed in order to create an extravagant haptic experience. All of this is accomplished without the use of additional materials, varnishes, or inks.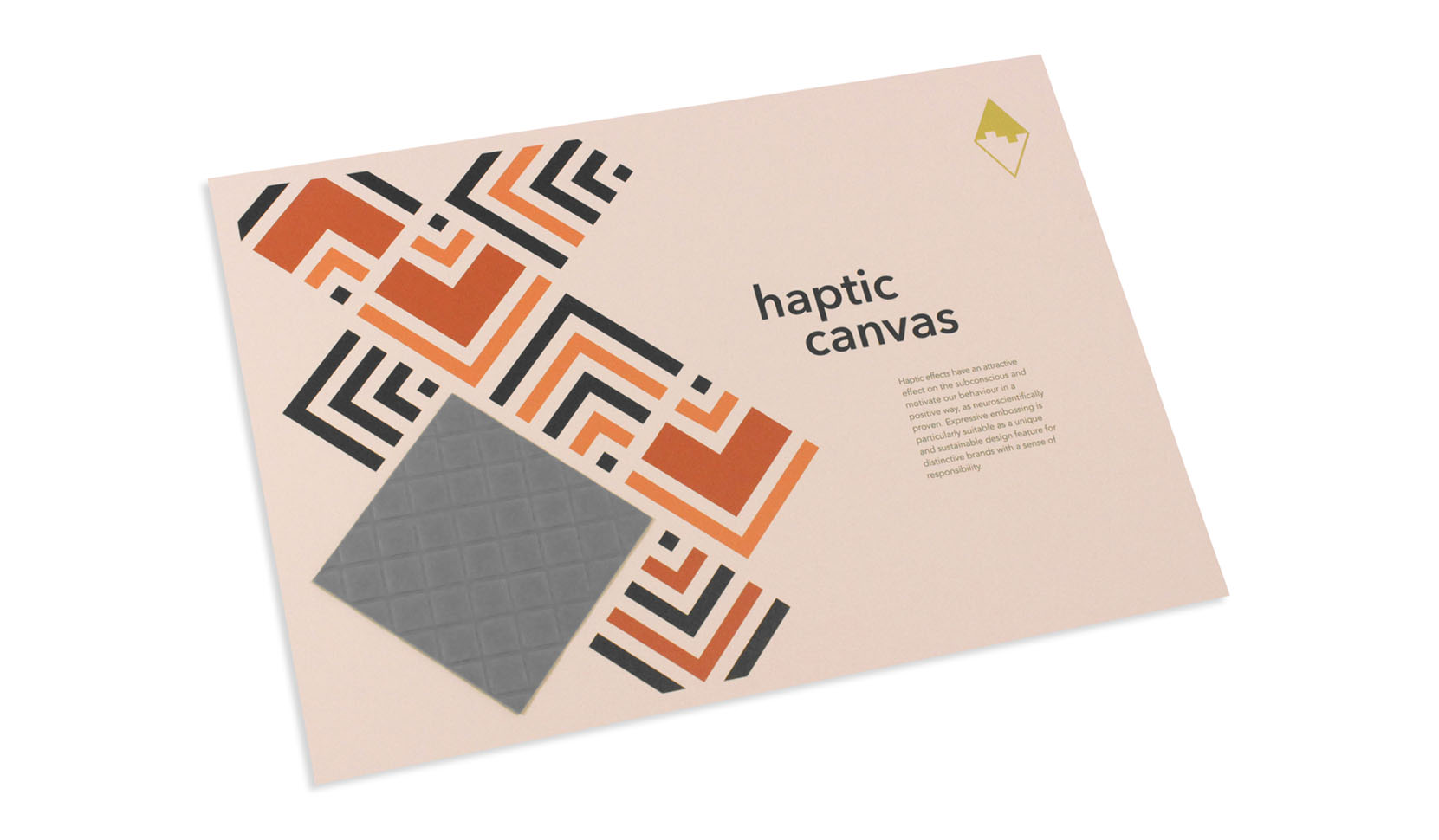 Eco star exotica
The sustainable and biodegradable window foil which we print and place in the packaging for you. In combination with an eye catching background the packaging becomes a real highlight in retail. Regarding the sustainability; the foil is not printed with UV inks, like usual, but instead with environmentally friendly offset inks.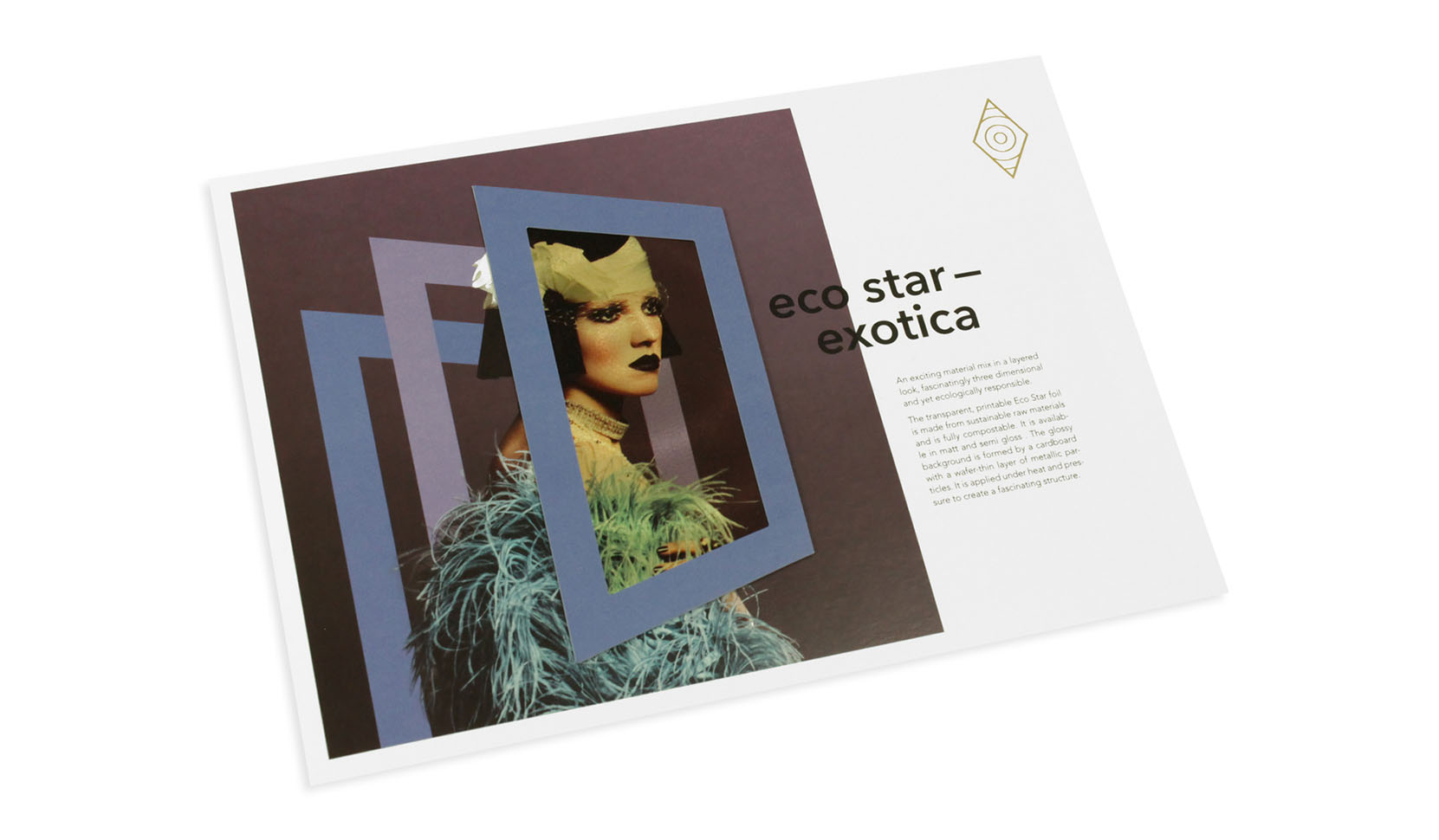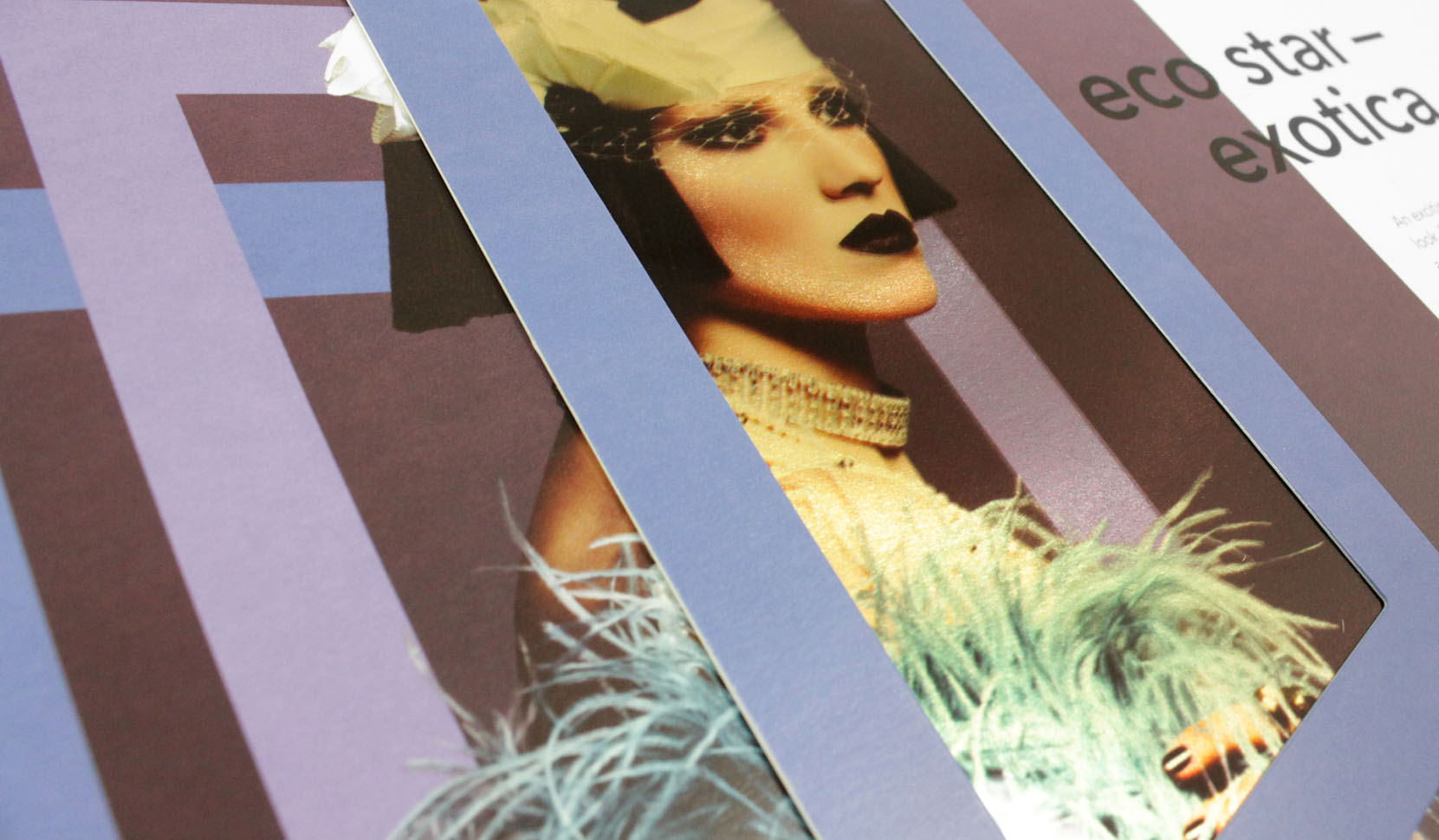 Mindful design
The ideal example of how one can create inlays with reduced material usage. This inlay nestles tightly into the product allowing various sizes of product to be packed in one unit size. Our sample shows how with simple tricks plastic fill materials can be avoided and at the same time a high value unboxing experience can be guaranteed.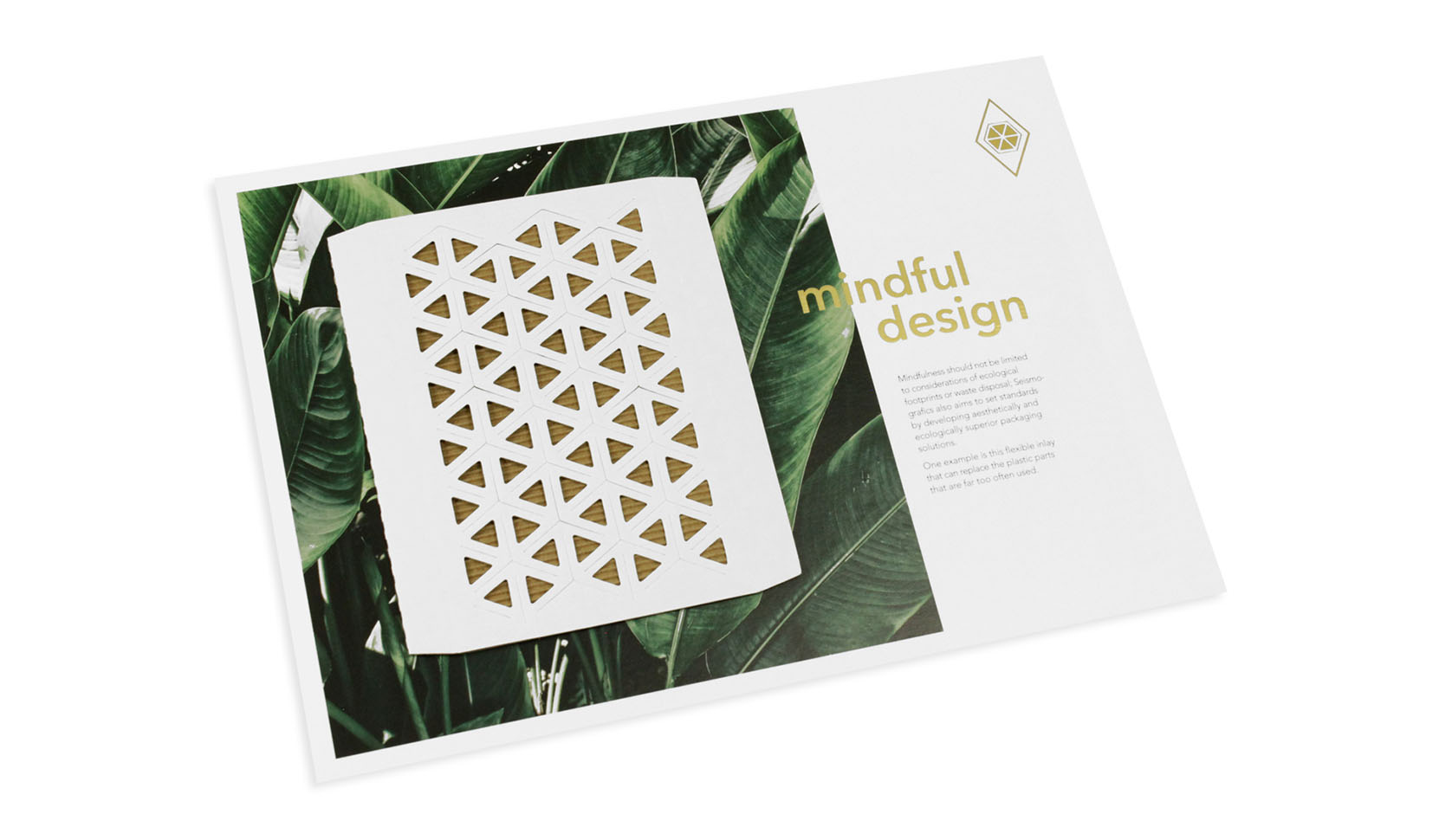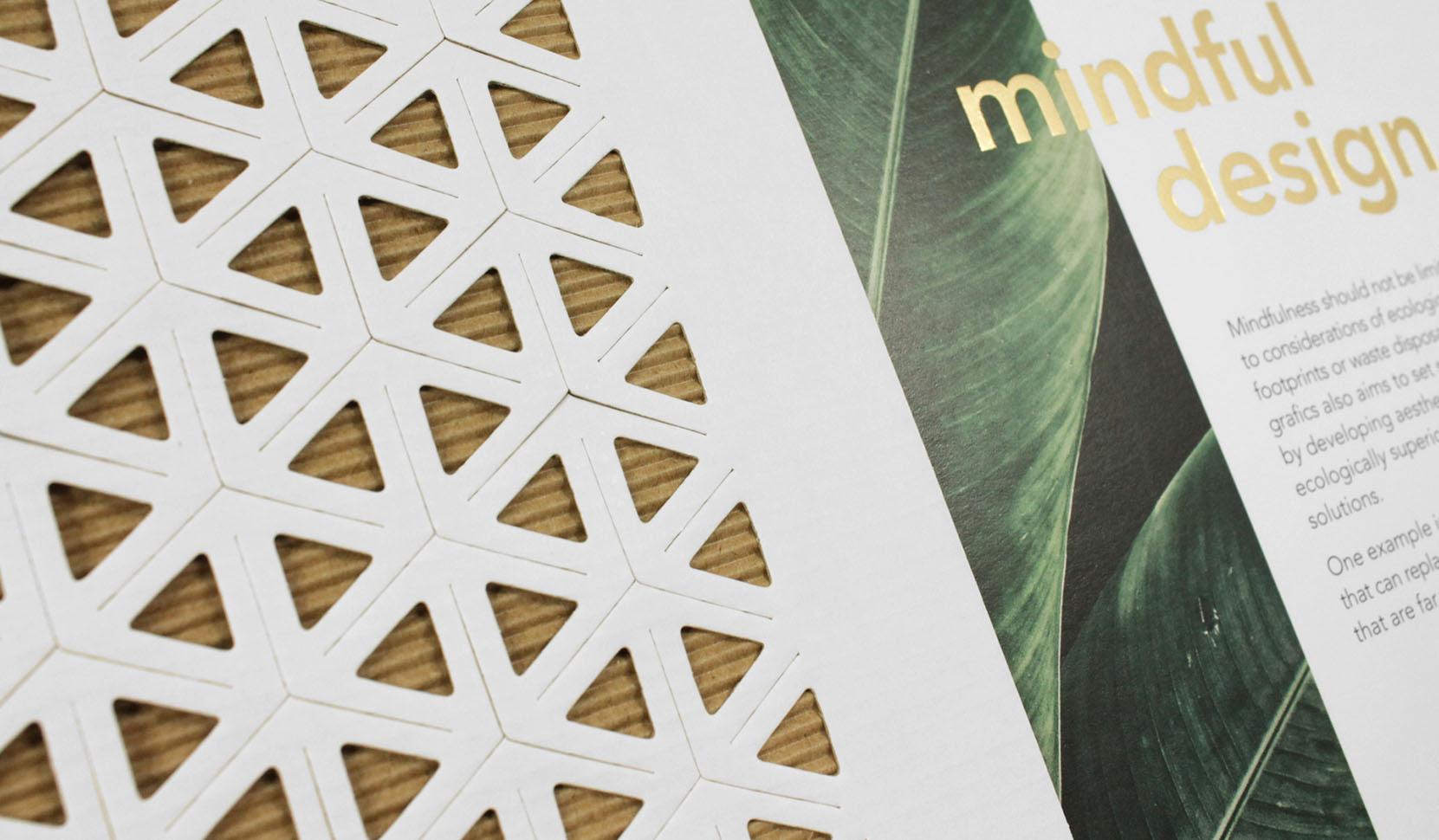 Botanic foil
A foil for shrink wrapping packaging, idea for salon treatment products, which for legal reasons must be shrink wrapped. We offer this service with 100% biodegradable foil. This foil is based on cellulose diacetate as well as glycerol triacetate and it dissolves after a few weeks.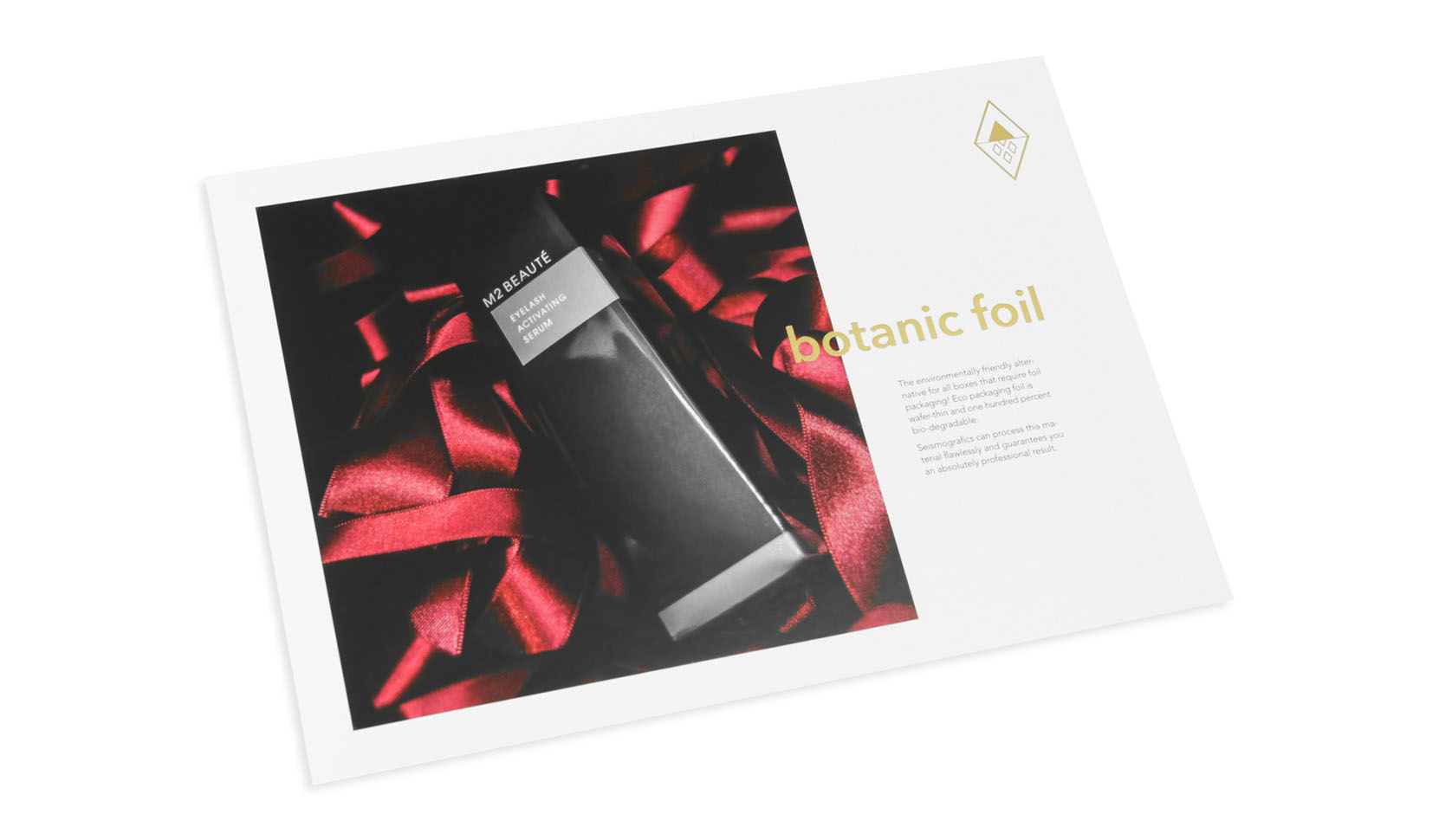 Cases
Together with BYBI, who became aware of us though our posts about our Ecovaganza project, we created an ecommerce packaging that is as luxurious as possible while also being as environmentally friendly as possible.
Together with BYBI, who became aware of us though our posts about our Ecovaganza project, we created an ecommerce packaging that is as luxurious as possible while also being as environmentally friendly as possible.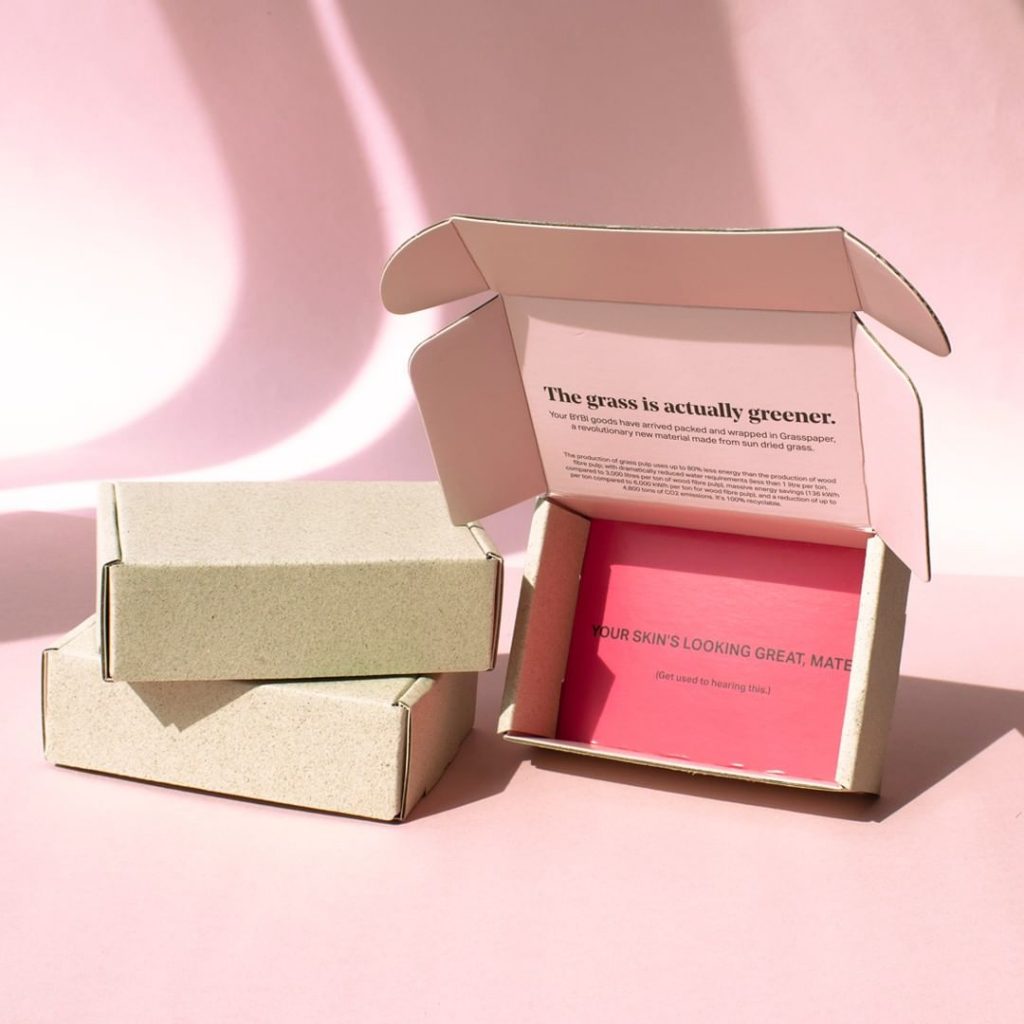 Grass paper combined with a unique design tells a special story which has paid off in a very positive way for the brand value of BYBI, "The Grass is actually greener. Your BYBI goods have arrived in and wrapped in Grass paper, a revolutionary new material made from sun dried grass."
Enhance your Brand Image with Sustainable Grass Paper Packaging
In Grass paper, up to 50% fresh fibers from sun-dried grass are used. This protects the environment by drastically reducing the water requirements in production. To be more precise, less than one liter per ton of grass fiber pulp, compared to the several thousands of liters per ton of wood fiber pulp. This results in an energy savings of up to 80% per ton of fresh fiber material and completely eliminates the need to use chemicals in this process.
Use Your Packaging as a Marketing Tool
High-quality sustainable finishes combined with your design makes your packaging a unique opportunity to significantly increase the reach of your product, and to clearly differentiate your brand from the competition. This is all simply done just by promoting the packaging. BYBI is already celebrating outstand success with the new e-commerce packaging. Within 24 hours of posting on Instagram about the packaging, they received numerous likes and many positive comments.
About
Competence and continuity since 60 years
In 2019, Seismografics takes time to look back over the 60 year history of the company. Our pioneering spirt was and still is our secret to success, along with our customer focused innovation.Even today, we are looking ahead and taking on new challenges. Maximum brand impact andminimal environmental impact are things we will be focusing on moving forward into the future.
Today, Seismografics is Germany's most versatile print finisher and packaging manufacturer with a unique machine fleet and unbeatable interdisciplinary know-how. In addition to the technical range of services, the range of services for the actual packaging solution, which are tailored to the customer's requirements,is also becoming increasingly crucial.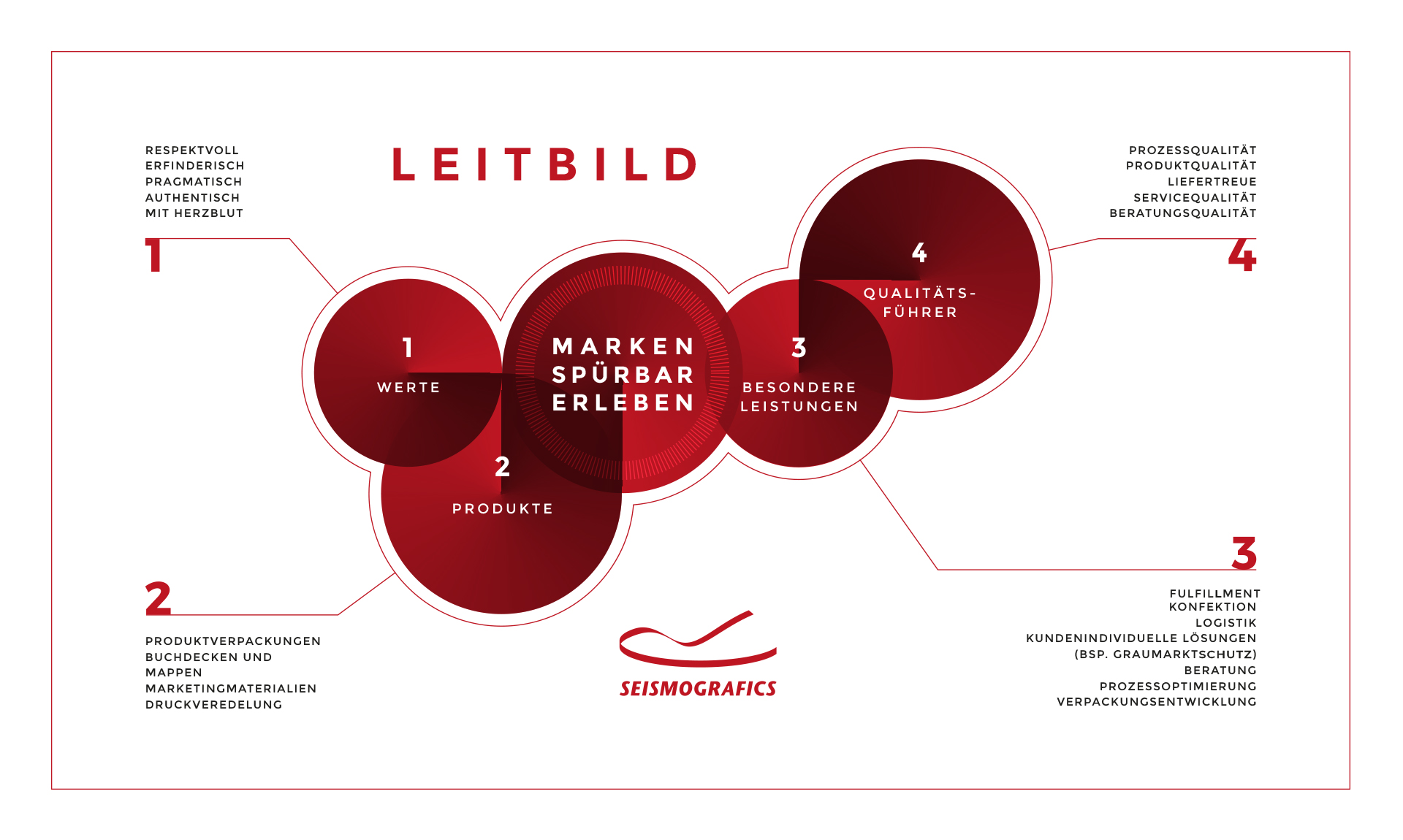 State-of-the-art equipment
We are happy to realize even the most demanding projects – with our ultra-modern machinery, comprised of over 20 machines ready for all specialty areas of print finishing, is well suited for these tasks.
We have given top priority to innovation and proficient solutions, in order to always achieve the best results for you, in the most efficient way. Seismografics is the first choice for individual and exclusive requirements – we are proud of that!
More than just a supplier – your strategic partner by your side
We provide interdisciplinary support not only for print finishing and packaging, but also for more complex challenges. We support you with our diverse full-service offerings from IT solutions to logistics and supply chain.
For example we solve your grey market issues and optimize your storage room needed by more clever packaging concepts